Ready for high school !
Such great news for the school year 2015-2016 ! The Hampaté Bâ School has been approved by the Nigerien Ministry of Education to expand into a high school section and has welcomed its first class of 10th grade students this fall. How exciting is that !
The school principal, Mr Baro, says: "We are very proud to be able to welcome eleven sponsored students into our newly opened 10th grade! Four years ago, these students came to our school as functional illiterates and look where they are now! We look forward to working with them in the year ahead. They will be able to make a great start alongside our other students, our teachers and our administrative staff."
At Hampaté Bâ High School, all students will be working towards obtaining their graduation diploma, regardless of their background. The teachers at the school talk about how students are climbing a mountain towards a high school diploma and, like any challenging expedition, getting there requires a lot of discipline and hard work.
Mr Haougui, the school manager, says : « Our devotion to promoting quality education, computer literacy, arts, and character education is quite unique in Niger. We are not chasing just exam results. We are committed to ensuring that every one of our students feels happy, comfortable and safe at school. »
Indeed, there is lots of support to go along with the school's high expectations. Thanks to your donations, students receive extra teaching time in numeracy and literacy, and next month, the remedial class teacher will take the new students to visit the Abdou Moumouni University in order to help them see what the summit of their mountain could look like.
We truly appreciate your past participation and any help you can continue to give these students through your donations will allow them to get to the top of the mountain… a high school diploma leading to a university education. Please consider donating to make these dreams come true and through education, make our world a better place. Thank you so much. You are certainly making a big difference with your generosity!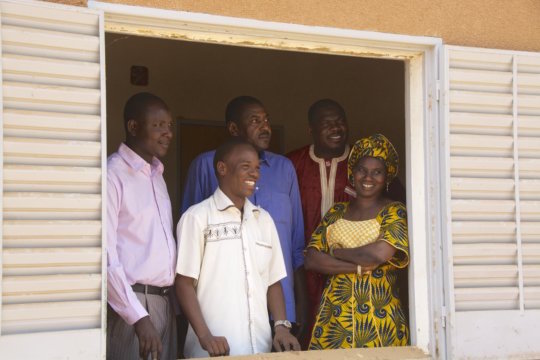 Staff happy to welcome high school students