Education opens minds and eyes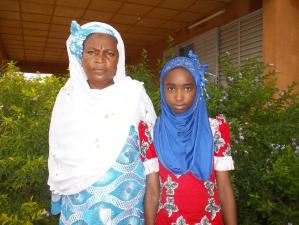 Salamatou's mother never went to school, but she clearly sees the benefit of sending her daughter to school, especially one as innovative as Hampaté Bâ Middle School: "Schooling opens the minds and the eyes of my daughter. Thanks to her knowledge, my family will be lifted out of darkness because she will learn many things that will be useful."
Our organisation's sponsorship programme is well into its fourth year of identifying high potential young people from disadvantaged backgrounds and giving them the opportunity to realise their potential in a school that is child-friendly and offers quality education.
Salamatou and her mother have embraced this opportunity and have fully invested themselves in what Hampaté Bâ has to offer. Even though Mrs. Abdou is illiterate and cannot help her daughter directly with her homework, she makes sure that all the house chores are not assigned to Salamatou as it is the custom in Niger. "My daughter has to concentrate on her schoolwork and so I make sure that she has enough time for that and I don't burden her with house chores."
When Salamatou first came to Hampaté Bâ, she could not read and write at the required level. The remedial program at our school to assist students in difficulty, did wonders for her and other students by using a learning approach based on first UNDERSTANDING and only then MEMORIZING. As a result, some of these students have experienced almost two-year improvements in their reading and spelling ages as well as gaining self-confidence. "I was having problems with my school work, but the training helped me to improve my reading, spelling and writing. I am doing much better in class now and I feel better about myself. I will continue to work hard and also help other students," says Salamatou with a radiant smile on her face.
Thanks to your on-going support, we are able to offer new scholarships annually to underprivileged girls entering 6th grade and open a whole new world of learning to them. Just like Salamatou, new students every year are reaping the rewards of quality education offered by Hampaté Bâ Middle School. Look at the results ! Attendance has increased significantly, student performance has improved, there are fewer repeats and drop outs, and presently the number of girls enrolled is actually higher than the number of boys!!
We are opening doors and making a difference in the lives of underprivileged Nigerien boys and girls thanks to your donations. If you are an existing donor, we thank you sincerely for your continual support. If you are not, we invite you to consider helping us make a difference. All amounts are welcome ! Thank you.